66/80cc BBR Tuning Bullet Train Electric Start Engine Kit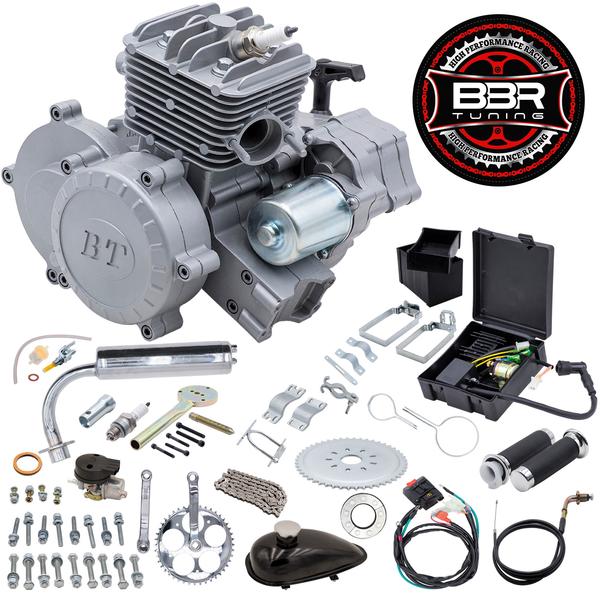 I'll help you with your warranty and customer service. You'll Deal w/ me direct.
You can get assembly/tuning help on our Facebook group and/ OR I will assist with any warranty issues directly.
( https://www.facebook.com/groups/hughesmotorized)
$293.55 – USA SHIPPING ONLY !!
Includes tracked shipping
Click buttons below to BUY NOW – Allow time for processing and I'll email you tracking in a few days.
CLICK BELOW
This electric start engine fits most bicycle styles such as mountain, road and cruiser that have a V frame shape and 26-inch wheels. For ideal installation conditions, there should be 9 inches to 11 inches of clearance between the top bar and bottom bracket. The frame tube should have a diameter of about 1 inch (25 to 29 millimeters).
Product Features:
A simple installation can be completed in a few hours
Requires basic tools and moderate skill level to build
Allows for fine-tuning adjustments following installation
Includes in-depth instructional guide with installation details
Engine chain location on the opposite side of the sprocket doesn't interfere with current drive chain
Free shipping to the continental US
Complete Digital Installation Guide
Each BBR Tuning bicycle engine kit comes with a digital installation guide that takes you step by step through installing, adjusting, and fueling your brand new engine kit for the ride of your life.
Package Includes:
BBR Tuning 2-Stroke 66/80cc Bullet Train Electric Start Engine
Low Profile Carburetor
Upgraded Chrome Muffler
Drive Chain Idler Pulley
Top Quality Japanese 202 Main Bearings
415 Bike Engine Drive Chain
Wide Crank Assembly (bottom bracket not included)
Drive Chain Guard
2-Stroke Spark Plug
Twist Throttle and Cable With Grip
1.5L Black Teardrop Gas Tank (approx. Γàû of a gallon)
Fuel Line
Gasoline Tank Switch
Sprocket Clamp Assembly
40+ Tooth Chrome Drive Sprocket with 9 Holes AND disc brake holes
High Quality Japanese Bearings on Both Ends of Crank
All Required Hardware
Kill Switch
Complete Digital Installation Guide; Downloadable version here
The BBR Tuning 2-Stroke 66/80cc Bullet Train Electric Start Engine Kit is an ideal upgrade for experienced builders ready for more speed and a higher level of performance.
Please note: Sprocket Clamp Assemblies included with Bullet Train 66/80cc, BBR Tuning 2-Stroke 48cc and 66/80cc, and 4-Stroke 49cc bike engine kits come with only 1x set of metal plates. Older production of these assemblies included 2x sets, but from testing and redesigning, existing engine kits and engine kits in the future will only require 1x set. This redesigned assembly helps secure your rear wheel sprocket better than in previous production.
Also note: Due to the design of this engine, most parts (including cylinders, pistons, cranks, and gaskets) and performance upgrade parts (including upgraded mufflers, carburetors, cylinder heads, and case covers) do not fit on this engine. DO NOT purchase parts or performance upgrades designed for non-electric start 2-stroke bicycle engine kits
Disclaimer: Operating this motorized bicycle and bicycle engine kit involved some risk of serious bodily injury. Buyer accepts responsibility for any and all vehicle operation that may lead to personal injury, economic loss, social distress, other losses, costs and damages. Seller is not responsible for injuries and/or damages resulting from operating this motorized bicycle or bicycle engine kit. Upon purchase, the buyer agrees to use products for racing (closed-course competition) only and not for on/off public roads.
Gasoline operated products are NOT compliant with Environmental Protection Agency ( E.P.A. ) or California Air Resources Board (C.A.R.B) for the use on/off Public roads. Upon purchase, the buyer agrees to use products for racing (closed-course competition) only and NOT for on/off public roads.
Disclosure of accurate engine size: While we have chosen to use the long standing factory branding engine size of "80cc", the true displacement of the bicycle engine is 66cc. Down through the years China bicycle engine manufactures have advertised their biggest engine as 80cc, therefore we have listed them in the same way on our website. However, the bore and stroke of an 80cc being 47x38mm equals 66cc. Therefore the true displacement of the 80cc bike motor is 66cc. In the west, the volume of a cylinder is calculated by using the formula Volume = Pi x Radius Squared x Stroke. However,in the east the displacement of an engine includes the area of the cylinder head's combustion chamber as well as the volume of the cylinder. Therein lies a discrepancy between measuring standards by the manufactures in China with those in the United States. However, all "80cc" engine kits on the market today are actually 66cc in displacement size if measuring by US standards.