66/80cc BBR Tuning Angle Fire Bicycle Engine Kit – 2 Stroke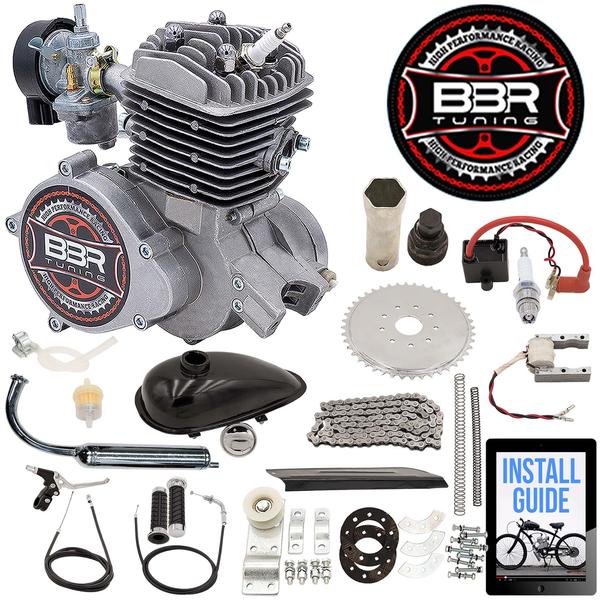 I'll help you with your warranty and customer service. You'll Deal w/ me direct.
You can get assembly/tuning help on our Facebook group and/ OR I will assist with any warranty issues directly.
( https://www.facebook.com/groups/hughesmotorized)
$189.95 – USA SHIPPING ONLY !!
Includes tracked shipping
Click buttons below to BUY NOW – Allow time for processing and I'll email you tracking in a few days.
CLICK BELOW
PLEASE NOTE: Top end assembly required for this engine kit.
On top of our strict quality assurance measures, we also back our engines with an industry leading 6 month warranty
Product Dimensions and Specifications
The BBR Tuning 66/80cc bike engine kit is about 8.5″ height 7″ length 5″ width. The bike engine kit fits on standard, male frames with tubing of 25mm to 29mm in diameter. Larger frame sizes require use of a universal face plate to mount the front of the engine.
2.75 HP (horse power)
25 to 40 mph depending on the gear ratio and weight
Fuel Economy: 100-150 miles per gallon
The engine chain does not interfere with your current drive chain and peddling because it rides on the opposite side of the bike sprocket.
Complete Digital Installation Guide
Each BBR Tuning bicycle engine kit comes with an easy-to-follow installation guide that takes you step by step through installing, adjusting, and fueling your brand new engine kit for the ride of your life.
Product Requirements
Installation is a breeze! The rider only needs some basic hardware skills, tools, and around 2-3 hours for installation and fine tuning adjustments (Note: Seller is not responsible for misuse or this kit or any warranty after installation).
Fits Most 26″ Wheeled Bikes (Mountain, Cruiser, Chopper, Road) with V-frame. The frame should have 9-11" of clearance between the bottom bracket and top bar, and the diameter of the frame tubes should be 25-29mm (around an 1").
*Note* CNS Carburetor upgrades will require extra matierial to fit flush around the manifold. This can be remedied by wrapping the manifold with electric tape or using PVC to fill in the gap between the carburetor port and the maifold.
Package includes *(Products pictured may come in different colors but does not hinder performance.)
1. Silver or Black BBR Tuning 66/80cc 2-Stroke Engine
2. Low Profile Carburetor
3. Upgraded Chrome Muffler
4. Complete Clutch Cable Assembly with Clutch Wire Clip
5. Drive Chain Idler Pulley
6. Top Quality Japanese 202 Main Bearings
7. 415 Bike Engine Drive Chain
8. Drive Chain Guard
9. 2-Stroke Spark Plug
10. Electron Ignition Coil (CDI)
11. Locking Alloy Clutch Lever
12. Upgraded Twist Throttle and Cable With Grip
13. Updated 1.5L Black Teardrop Gas Tank (approx. Γàû of a gallon)
14. Fuel Line
15. Throttle Cable
16. Gasoline Tank Switch
17. Sprocket Clamp Assembly
18. 44 Tooth Chrome Drive Sprocket with 9 Holes
19. Large Spring (Heat Shield Spring)
20. Extension Spring (Recoil Spring)
21. High Quality Japanese Bearings on Both Ends of Crank
22. Required Hardware and Gaskets
23. Magneto
24. Kill Switch
25. Complete Digital Installation Guide
26. Bonus: Spark Plug Removal Tool (While Supplies Last)!
27. Bonus: Standard Universal Mounting Bracket
Disclaimer: Operating this motorized bicycle and bicycle engine kit involved some risk of serious bodily injury. Buyer accepts responsibility for any and all vehicle operation that may lead to personal injury, economic loss, social distress, other losses, costs and damages. Seller is not responsible for injuries and/or damages resulting from operating this motorized bicycle or bicycle engine kit. Upon purchase, the buyer agrees to use products for racing (closed-course competition) only and not for on/off public roads.
Disclosure of accurate engine size: While we have chosen to use the long standing factory branding engine size of "80cc", the true displacement of the bicycle engine is 66cc. Down through the years China bicycle engine manufactures have advertised their biggest engine as 80cc, therefore we have listed them in the same way on our website. However, the bore and stroke of an 80cc being 47x38mm equals 66cc. Therefore the true displacement of the 80cc bike motor is 66cc. In the west, the volume of a cylinder is calculated by using the formula Volume = Pi x Radius Squared x Stroke. However,in the east the displacement of an engine includes the area of the cylinder head's combustion chamber as well as the volume of the cylinder. Therein lies a discrepancy between measuring standards by the manufactures in China with those in the United States. However, all "80cc" engine kits on the market today are actually 66cc in displacement size if measuring by US standards.