4 Stroke 49cc 5G Pull Start Bicycle Engine Kit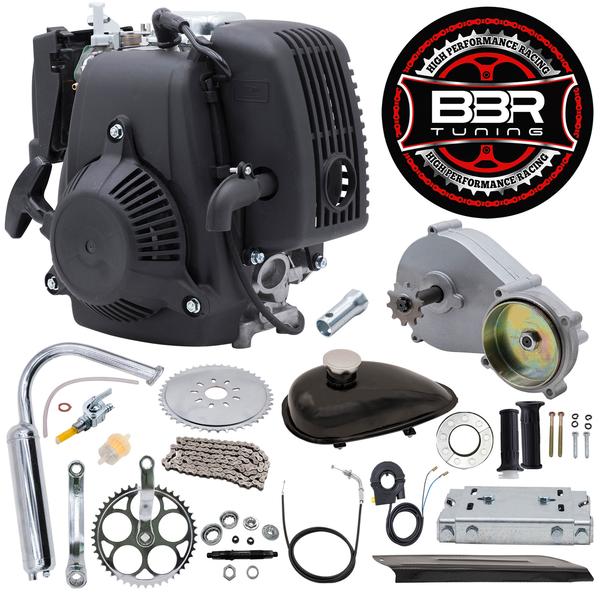 I'll help you with your warranty and customer service. You'll Deal w/ me direct.
You can get assembly/tuning help on our Facebook group and/ OR I will assist with any warranty issues directly.
( https://www.facebook.com/groups/hughesmotorized)
$284.95 – USA SHIPPING ONLY !!
Click buttons below to BUY NOW – Allow time for processing and I'll email you tracking in a few days.
CLICK BELOW
Product Dimensions and Specifications
48cc engine kit is about 9″ height 9.5″ length 7″ width. The bicycle gas engine kit includes a mounting plate that fits on standard 25mm to 29mm frame tube. Larger frame size requires modification to the mounting plate and/or frame of your bicycle.
BBR Tuning 5G 4-Stroke bicycle engine kit offers:
2-3 HP (horse power)
20 to 25 mph depending on the gear ratio and weight.
Fuel Economy: MPG 100-150 miles per gallon
Oil Capacity: 250 mL (~8.45 oz)
Independent drive sprocket and chain does not interfere with your current drive chain and peddling can be restored with a wide crank assembly.
Complete Digital Installation Guide
Each BBR Tuning bicycle engine kit comes with a digital installation guide that takes you step by step through installing, adjusting, and fueling your brand new engine kit for the ride of your life.
** Please note: Sprocket Clamp Assemblies included with BBR Tuning 2-Stroke 48cc and 66/80cc, and 4-Stroke 49cc bike engine kits come with only 1x set of metal plates. Older production of these assemblies included 2x sets, but from testing and redesigning, existing engine kits and engine kits in the future will only require 1x set. This redesigned assembly helps secure your rear wheel sprocket better than in previous production. NOTE: Wide Crank Assembly are only Compatible with 9/6th inch pedals. Will not be compatible with Micargi Beach Cruiser's stock pedals.
Bottom bracket is not included. If the bike being converted has a one piece crank assembly, you will need a bottom bracket .

With these strict quality assurance measures, we are able to offer an industry leading 6 month warranty!
Package Includes *(Products pictured may come in different colors but does not hinder performance.)
1. BBR Tuning 2014 5G 4-Stroke Centrifugal Transfer Case (6:1 Gear Ratio)
2. HuaSheng 49cc Pull Start Bicycle Engine
3. High Performance Low Profile Carburetor
4. Upgraded Hush Muffler
5. High Quality Japanese Main Bearings
6. Heavy Duty 415 Bike Chain
7. Upgraded Chain Tension Guide
8. Chain Guard
9. Spark Plug
10. CDI (Ignition Coil)
11. Upgraded Twist Throttle and cable with matching grip
12. Engine Mounting Plate
13. Black Teardrop Gas Tank (1.5L)
14. Fuel Line
15. Throttle Cable
16. Gasoline Tank Switch
17. Sprocket Clamp Assembly
18. High Quality Needle Bearings on Both Ends Crank
19. 44 Tooth Chrome Sprocket with 9 Holes
20. Magneto
21. Kill Switch
22. Required Hardware and Gaskets
23. Complete Digital Installation Guide
24. Bonus: Spark Plug Removal Too!
25. Bonus: Wide crankset
Disclaimer: Operating a bike, motorized bicycle or bike with a bicycle engine kit installed involved some risk of serious bodily injury. Buyer accepts responsibility for any and all vehicle operations that may lead to personal injury, economic loss, social distress, other losses, costs and damages. Seller is not responsible for injuries and/or damages resulting from operating this motorized bicycle or bicycle engine kit. Seller is not responsible for misuse of this kit or any warranty after installation. Not all motorized bicycles are allowed on road use. We make no guarantee as to the road legality of the bicycle engine kits. The risks that the Seller, HughesMiotorized. is not responsible for include among other things: falling, collisions with pedestrians, street, highway or roadway vehicles, striking obstructions or other person, unsafe weather conditions including temperature exposure, hypothermia, sunstroke, sunburn, heat exhaustion and dehydration.